…It's 2021, what are you using?
Are you BRAND NEW to home education/homeschooling/unschooling/thinking about not sending your children to school? Then there's ONE place you'll find it ALL! Beverley Paine is part of the foundations of home education in Australia and now a grandmother to home educated children she continues to layer her experience into her writing for us all to learn from. Beverley ALSO maintains RESOURCE DIRECTORIES. Seriously, there's no point in my writing more than GO TO HER SITE! I've lost count of the times I've read or heard people talking about how much relief they found at the start of their journey into home education when finding out about Beverley's many articles, books, resources etc. MOST of it is free on her site. Very generous lady, and someone I'm grateful to call a dear friend. 
Are you confused about what the new technology terminology in education is? HERE is a great visual aid that helps.
Want to learn about World History through cool Youtubes? Click HERE
Khan Academy is uber cool and resourceful and TOTALLY FREE!!!!
Science Bob is an institution in the USA with his fun videos… check him out.
Where are all the Languages going? This awesome project about endangered languages is well worth learning about. It also helps to explain how languages change over time by seeing what communities do when languages are lost. A great project would be to learn words from a language on the brink of being forgotten. Potentially very empowering.
Worried that your child isn't writing well? This blog by Patricia Zaballos is great and this post explains some common assumptions. Written by a teacher, author and Home Educator.
Authentic Parenting… what is it? How does it relate to choosing to Home Educate? HERE is a link you might find helpful.
As mentioned earlier, there are awesome resources put together by an awesome lady, Beverley Paine who Home Educated her 3 children before the internet, off the grid in a self-build dwelling in South Australia with Robin, her lovely husband. She also authored some VERY affordable 'how to' books for both Home Educating. Check out her books at Always Learning Books, now run by daughter April Jermey who now home educates her own 3 children!
Don't make ya Brainpop! Another online learning link.
Another site, this one is focusing on Science. Experiland!
If you are looking to pay for content, these below are some I've absolutely no affiliation with but have been used by thousands of Home Educators globally for many years. They are essentially online workbooks but benefit from offering interaction and multimedia support. These are not best used as a distance education curriculum but as support for a plan, you develop with your child. Always use free trials to judge if it works for your child before paying for anything!
Have you used Skwirk? Online learning links time… and they mostly start with at least a month of free use.
Here's a Studyladder for you to climb… more online learning.
Zane Education is another online learning provider… you can dive in and check it out for free, with only part of their site requiring a membership.
Of course, there is also Reading Eggs, Horrible Histories, Horrible Science, Horrible Geography, Horribly Famous and Murderous Maths! Books, and Murderous Maths website. Online learning games and DVD's are amongst the aids.
Here is an EXCELLENT list for 100 EDUCATIONAL VIDEO SITES. Enjoy!
Need to reconnect with your children? Kara Matheson is a talented and beautiful lady who runs courses on Mindful Parenting.
Why do you need to Hack Life? Coz hacking saves time and reduces stress, and parents who are less stressed are better for children's well-being…. go on… become a Life Hacker!
What better way to fire up your brain and their's than by watching some AWESOME people talk about interesting ideas at a Ted Talk. Always something interesting there!
I'm a resource too!
If you want to book a consult so together we can review your plans prior to registration, or because you're stuck or need tonnes of information and want to remove stress then feel free to book via my Facebook page. I have two types of consultations.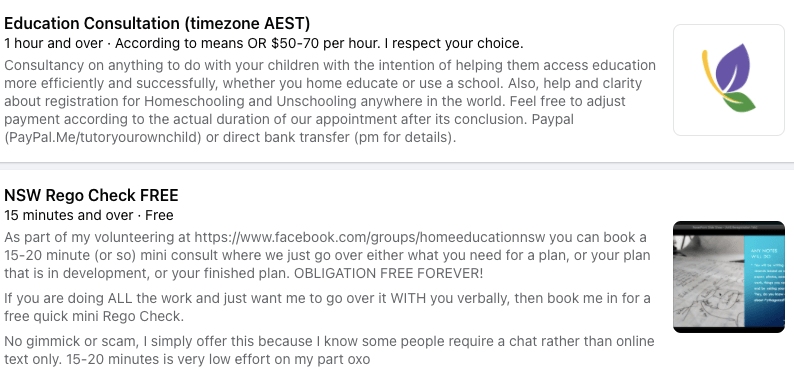 Consultancy on anything to do with your children with the intention of helping them access education more efficiently and successfully, whether you home educate or use a school. Also, help and clarity about registration for Homeschooling and Unschooling anywhere in the world. Feel free to adjust payment according to the actual duration of our appointment after its conclusion. Paypal (PayPal.Me/tutoryourownchild) or direct bank transfer (pm for details).

As part of my volunteering in the Facebook group Home Education NSW you can book a FREE 15-20 minute (or so) mini-consult where we just go over either what you need for a plan, or your plan that is in development, or your finished plan. OBLIGATION-FREE FOREVER! If you are doing ALL the work and just want me to go over it WITH you verbally, then book me in for a free quick mini Rego Check. No gimmick or scam, I simply offer this because I know some people require a chat rather than online text only. 15-20 minutes is a very low effort on my part.
So what are YOU using this year?
Reviews